How to Stop HandBrake Auto Cropping and Keep Original Resolution?
Q1: "Does anyone know how to stop 'Handbrake' from cropping my videos? I know it's just trying to help get a good picture quality but it has cut off part of the subtitles in One Piece, so I can't read the bottom half of every letter."
Q2: "I have been using Handbrake for a while to compress video files recorded with FRAPs. I game/record at 1920×1080 and I have been using Handbrake to compress them but keep the same resolution. Now for some odd reason it is modifying the resolution to 1920×954. Needless to say, Handbrake is squishing the videos. I do not seem to be able to force Handbrake to save files at 1920×1080… Any way to fix this?"
Sometimes HandBrake crops too much. Sometimes we don't need crop videos. So to keep our original video resolution, we need to disable HandBrake automatic cropping: Go to "Dimensions" tab > navigate to "Cropping", choose "Custom" > then set the four crop values (Top, Bottom, Left, and Right) to "0". Then nothing needs to be changed. Simply leave "Anamorphic" on "Loose" and "Modulus" on "2". > Now, hit "Start Encode" in the top toolbar to transcode video with original video resolution.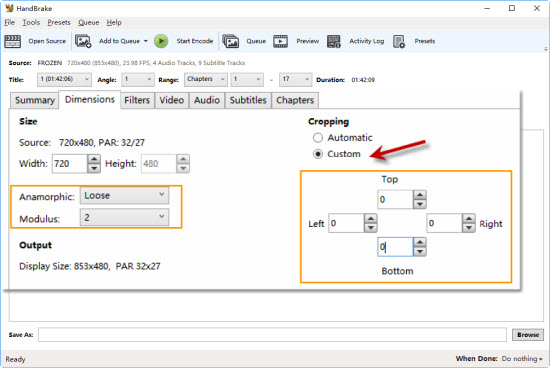 Part 2. How to Crop Videos Manually with HandBrake?
Also, there're many times when we want to crop black bars off video by ourselves. So how to make it with HandBrake?
Select "Custom" under "Cropping".
Set values for Top, Bottom, Left, Right respectively based on your own needs.
Hit "Preview" in the top toolbar to check if the output looks good. If there's something wrong, just change the values to make some adjustments.
Click "Start Encode" until the output looks fine.
Knowledge about Anamorphic:
If you want to decrease the width or maintain the source width, choose Loose.
If you want to set both width and height, None is the choice.
Source: https://www.winxdvd.com/resource/handbrake-cropping-guide.htm
Handbrake – vypnutí automatického ořezu